THE NIGHT BECKONS...WILL YOU FOLLOW?
Inside the Night Gallery, you'll find a free download of our 2017 album, The Elegiac Repose, a pdf. of the lyric cards created to go with the albums, and a curated path through our journey from inspiration to expression. If you would know the musicians behind the music, this online gallery is where it all begins. We email regularly with early announcements, stories behind our songs, questions for you, discounts, and on occasion, surprise free songs. Think of this as our own shadowy table in a forgotten nook in your favorite haunted house. 
And you can only enter with your email address.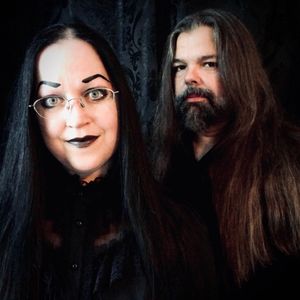 Sarah Black (vocals, piano and keyboards, drum programming) and Braxton Ballew (5 string electric upright bass, synthesisers and drum programming) are Valentine Wolfe. We compose and perform dark, haunted music for soprano, solo double bass, and electronics. Inspired by seances, spirit photography, gothic poetry and literature, and the most macabre realms of history, Valentine Wolfe is a symphony of darkness for your most seductive nightmares.